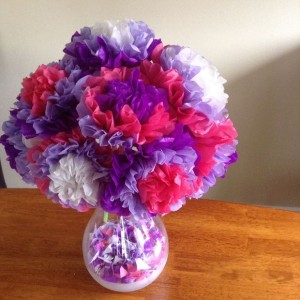 If a handmade gift is what you need to make an occasion special, learn to make tissue paper flowers. They make up in a hurry, can be customized in style and color and may last a long time. In an hour you can whip up a gift that friends will rave over.
Tissue Paper Supplies
What you need: Tissue paper (one 20 x 26-inch or 20 x 30-inch sheet makes three flowers. Usually, a group of three blossoms makes a nice small bouquet, but you might want to splurge with a full-blown arrangement of a dozen.) To make 12 flowers, have 12 sheets in the color or colors you desire, 12 pipe cleaners or flexible florists' wire, scissors or wire cutters and a ruler or measuring tape. If you plan to complete the gift with a vase, choose it to match and have it ready. It's easier to match before you complete the flowers than go back and try to match later. Touches of ribbon or lace, buttons or beads can be used to enhance your flowers if you like.
Instructions
Stack three sheets of unfolded tissue paper on a flat surface with a wider edge facing you. Take the bottom edge and fold it over one inch . Then flip it over and fold it back on the other side. (Remember when you made paper fans when you were in school?) Continue folding an inch at a time until you have a paper "accordion."
Fold the accordion in half. Double the pipe cleaner. Wrap about an inch and a half from the center of the pipe cleaner around the middle of the accordion. Twist the remainder of the pipe cleaner to make the stem. Take two more pipe cleaners and repeat the process about 6-7 inches from the center. Cut the paper into three equal-sized pieces with the pipe cleaner in the center. Adjust if necessary.
Cut rounded edges on each end of the three flowers, trimming as necessary so the outer layers and the inner ones will match. (You can use the cut-off trimmings in the bottom of the vase for "confetti.")
While holding the "stem," gently open the accordion, pulling the top layer straight all the way around the flower. Be gentle to avoid ripping the paper. Finally, flip the flower upside down and gently run your fingers from the center stem to the edge, gently pressing the bottom layer down toward the middle layer.
Arrange the first layer in the vase by slightly bending the stems so the flowers face outwards. Keep adding layers, with the top layer standing slightly taller. Tinker until you feel your bouquet is just as you like it.
After the first try, you can go wild with colors and combinations that can coordinate with the occasion. You'll find you've added a fun and useful skill to your catalog of creative gift-making.
Related Flower Tissue Paper Websites
You can always buy flowers ready made. We found some cute ones at: