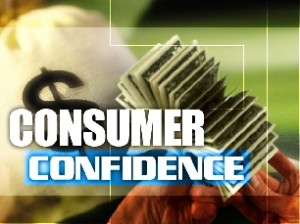 The latest government reports on retail buying and consumer confidence have a rosy glow about them. And with evidence of "solid economic growth" in the third quarter, it seems Americans are regaining some of the confidence they lost during the recent recession.
The August figures showed an 0.6 percent increase in retail purchases, following an 0.3 percent increase for the previous month, according to Commerce Department figures. In 11 of the 13 categories tracked by the department, there was improvement.
Michelle Girard, chief U.S. economist at RBS Securities Inc., Stamford, Connecticut, said, "Consumers are feeling better about the outlook for the economy, certainly, and that's one of several factors that is supporting the better spending numbers."
Contributing to the optimism is the improving job market, rising stocks and stabilizing home prices, along with a dip in fuel costs. Looking at the factors combined, experts are raising their forecasts for this quarter's economic growth.
The Federal Reserve may raise interest rates sooner than was expected as the economy shows signs of returning vigor.
Consumer confidence is at the highest in more than a year, according to Thomson
Reuters/University of Michigan figures. The index for this month rose to 84.6, the highest since July 2013. A projection of expectations shows that more Americans are feeling more confident about the country's economics than they expressed in the July 2013 surveys.
"The consumer is in decent shape right now," said Gus Faucher, an economist with PNC Financial Services Group Inc. in Pittsburgh. "e are looking at solid economic growth in the third quarter."
The annual back-to-school and back-to-college shopping sales appear to have validated the forecasts of improved sales, although they are still being analyzed.
Last month, some 142,000 workers were added to payrolls. Over the past six months, the increase in workers has totaled more than 1.4 million. The unemployment rate fell from 6.2 percent to 6.1 percent. But there has been no indication that wages or compensations has risen and that is a factor in government conversations about raising interest rates.
A mid-September meeting of leading federal economists was to look at the current figures and issue new forecasts for the interest rate, as well as projections for economic growth, unemployment and inflation.