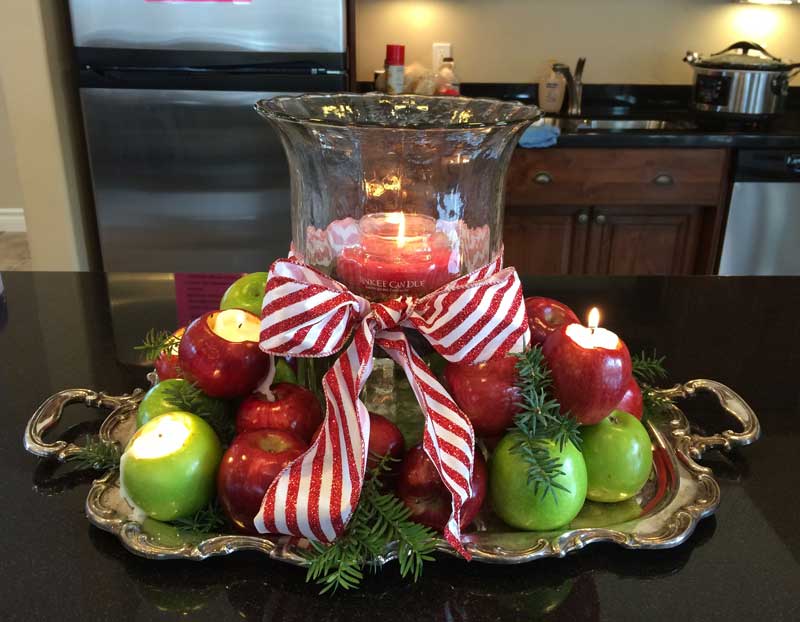 Creating a festive feeling for a special event requires a little planning and a lot of creativity. At a recent event, over 30 woman gathered to help finish blankets for a local organization that provides care for those who are being abused by others. During the event, we had several talented women who shared some unique recipes for Christmas morning breakfast. The recipes were oh so yummy.
The fun Christmas centerpiece helped put everyone in the Christmas spirit. Many people who have seen the photo have asked how to create the centerpiece, so we decided to share that with you.
You will need: 1 large decorative tray, about 2 dozen green and red apples, 6 tea lights with holders, 1 larger hurricane glass candle holder, lemon juice, 6 inch strips of evergreen branches, 18″ – 36″ red and white wire edged Christmas ribbon.
The first thing you need is a tray to put it on. In the photo, the tray is a piece that was a family heirloom, but you can find reasonably priced trays at local stores. Just make sure you get one sturdy enough to hold the weight of the objects you add to it.
The second thing you'll need is a dozen red apples and a dozen green apples. Pick out the undamaged ones that look the best.
You'll need about 6 glass tea light holders as well as 6 plain colored tea lights.
Find an evergreen tree and trim some branches off in small 3″-6″ strips to be used to "garnish" the apple designs. If you don't have an evergreen tree near by, just go to Michaels and get a small bunch of evergreen greenery and trim off about 10 strips to use instead.
You will need a large clear glass hurricane candle holder which can be found at a variety of craft stores. Use a large sized glass that is 12″ high or higher for best effects. Make sure the opening of the holder is wide enough for your candle to go into. You can use a plain red candle or you can use a candle that is already in a glass container. Whichever you prefer. It is a little easier for cleaning purpose if you use a candle already in a jar.
The last thing you will need is 2 inch or wider red and white wire edged ribbon. You'll need at least 18″, depending on how elaborate you want to make the bow. 36″ would make a multi looped bow.
Directions for assembly are pretty easy. It will be easier for you if you decide on the place you want to put the centerpiece so you don't have to move it after you have designed it. Once you have found your spot, then design it there.
The first thing you want to do is to choose 6 apples in both colors to hold the tea lights. Just measure the width of the tea light and cut out exactly that much of the apple. Dig out the apple until you can fit the glass tea light holder in the apple. Do that for all six apples. To prevent the apple from turning brown, you can drizzle lemon juice on them, or soak them in water with lemon juice. Use the ratios of one tablespoon of lemon juice to one cup of water. Soak them for about 5 minutes. Then drain the water off and pat them dry.
Rinse off the remaining apples and pat them dry.
Set your large hurricane glass candle holder in the center of a large – 9″ x 12″ or larger decorative tray. Start placing apples around the holder. The main objective is to stack the apples around the glass container in a random fashion and stacking some on top of each other. This will hide the majority of the center candle. Put the tea lights in small glass holders and put the holders into the apples you have carved out. Place these carved apples randomly around the piece.
Set your Yankee candle or large red candle in the center of the hurricane glass holder. Insert the small green evergreen trim between the apples at various places that will actually hold the trim without it falling down. Use these as a filler and an accent to your centerpiece.
Tie your wire edged ribbon around the upper portion of the hurricane glass and then into a bow. Let the ribbons edges drape down to the apples. Before lighting the candles make sure they aren't touching any of that ribbon. Light the candles right before your guests arrive.
That is all you have to do. Play with the arrangement of the apples to create a nice balanced look and feel. This centerpiece creates a nice Christmas spirit and will delight your guests. Enjoy.