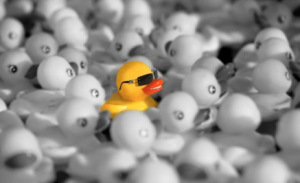 How can you make your unique brand stand out against the competition in the retail space?
Little Things Could Make A Big Difference
For instance, you can now obtain specially designed stamps and customized logo designs created especially for small businesses and it is not expensive. The end point should always point to a clear and cohesive brand. It should be so unique that the customer may forget the name, but remember the pleasure of the purchase.
Some hints for effective branding and creative business, both online and offline:
Develop Your Online Assets
Begin with analyzing what makes your product unique. Then try to make that special quality obvious through branding, through the use of color and imagery, a logo or any other means that will imprint on the mind of the customer.
Perfect Your Product Labels
Shoppers today are very visually driven. Products that are attractive to buy and that remain attractive when they are displayed in the home are what customers want. Customize labels, boxes and containers to reflect the message you want to send. The packaging is the culmination of the effort you are making to positively identify your product. Labels, stickers and hangtags are handy for specific details. If you are looking at wholesale transactions, remember that a crush-proof exterior is essential.
Hone Marketing Materials
Business cards and supplemental marketing materials are part of the marketing and branding process. Thank-you cards and postcards are ways to extend the relationship between you as the seller and your customer, human touches that invite a return visit. Handwritten notes work, if feasible.
Generate Or Take Advantage Of In-person Events
Find a way to display your products at small events.
Core marketing materials don't need to change, but if you are displaying your products in a booth, make the signage consistent with what has worked for you before. Your established colors, logo and brand imagery should stay the same. When packaging goods for in-person shoppers, try to make bags as attractive as possible, so they can advertise for you as they continue browsing. Include a business card and care instructions for use of the product if necessary.
Limit Expenses
Don't forget to include packaging and promotion when considering what your product costs. Make what you can and look for economical and expedient options for what you must purchase. Research companies that make the products you need and try to cultivate a good working relationship with the one that works for you. Don't overstock. Get quotes on different sized orders. Some companies will require minimums, but there is lots of competition among those who provide packaging and you may be able to bargain.