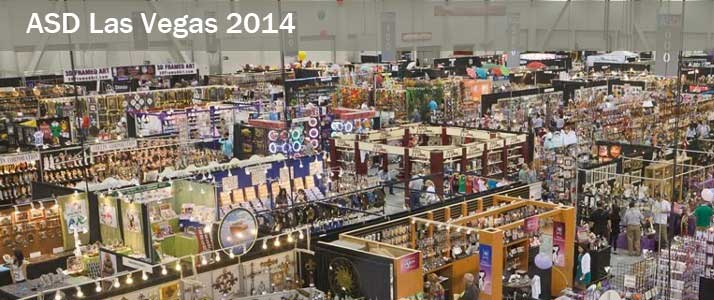 Forty thousand participants rubbed shoulders recently as the ASD (Associated Surplus Dealers) Vegas trade show held its annual extravaganza in the Nevada city's Convention Center. The show, which has staged its yearly meeting of buyers and sellers for more than 50 years, continues to thrive and evolve.
The convenience of having thousands of exhibitors showing their goods in the style and beauty, jewelry, gift, toy and value categories all under one roof again attracted thousands of buyers who find the yearly blowout a good way to see more of what's available, spend time with the vendors and place their orders.
Seminars on such current topics of interest to the retail community as social media enhancements, search engine strategies, e-commerce and global sales strategies attracted large audiences.
The Vegas show again attracted representatives of the wholesale and mass retail arenas. They included those from the large chain retail stores, independent retailers, online retailers, distributors, boutique franchisers, mall carts and kiosks. They had a dazzling array of goods in the most comprehensive selection of general merchandise in the country.
Hear what retailers are saying about ASD Las Vegas:
Les Kleinberg
Glitz in the City; Salt Lake City, UT
"It's big and it's in Las Vegas––that's why I attend ASD. It's everything we need and more all in one place. I buy jewelry, purses and wine glasses. I do cash & carry here and I've found new products and suppliers we may place orders with. We attend San Francisco International Gift Show as well, but there is more merchandise at ASD all in one place."

Rich Richardson
Best Tires for Less; Temecula, CA
"Having merchandise for sale keeps our female customers entertained while they are waiting for their cars. We have purses, backpacks, luggage, stun guns. My wife is also buying cash & carry jewelry for herself. We need what's new and different to keep people buying––that's why we come to ASD."
Reed Fowlers
Big West Sales; Kaysville, UT
"We're here looking to place orders on items to sell at our hundreds of stores throughout the West – mostly gas stations and convenience stores – and to network with suppliers. This is one of the major shows that we attend every year."