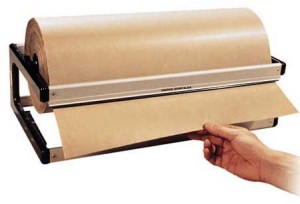 Kraft paper wrapping and packaging products have become increasingly popular in a world where customers want to take their purchase home in something that's as attractive as the item itself. The paper, usually brown, but with color options, harks back to the old mercantile treatment of an earlier era. It's also more durable than many wrappings and holds up well under some heavy-duty shopping. (In it's native German, Kraft means "strong.")
Carl Dahl Invents Kraft Manufacturing In 1884
Making Kraft Paper is a method that has been in use since at least 1884, when a German, Carl Dahl, invented it. The first Kraft mill in the United States opened in 1911 in Pensacola, Florida. Today, some 80 percent of paper production incorporates elements of the process. Interestingly, plants using the process can be identified by the strong, offensive smell caused by the sodium sulfide and caustic sodium hydroxide used in production.
Production Process
The production process generates byproducts that can be used in several ways, making it a cyclical process. Wood is prepared for paper production by a chemical process that breaks down the lignin, the cellulose component of wood. That creates a byproduct called black liquor. After evaporation to remove liquids, it is burned to generate the high-pressure steam that the mill uses to make paper. The other non-organic components of the black liquor then regenerate the sodium sulfide and sodium hydroxide that are used for pulping.
When the wood of conifer trees is used, a soaplike substance remains, which is acidified and used to produce "tall oil." The oil is a source of fatty acids, resin acids and other chemicals. A component called rosin is used in some rubbers, adhesives, inks and emulsifiers. Another byproduct, pitch, is used as an adhesive, a binder in cement and an emulsifier for asphalt.
Strong Fibers Are Produced By Removing Lignin
When the end product is intended to be Kraft Paper, a sulfite process is used to remove the lignin from the wood. An alkaline solution, rather than acid, is used because it is less corrosive and damaging to paper production equipment. The Kraft process is more effective at removing lignin and produces a stronger fiber. This fiber also is rougher and contains more impurities than papers created with the sulfite process. The result is that the Kraft Paper is more difficult to bleach.
Kraft Paper Production In The United States
United States producers have moved to the forefront in production of pulp and paper products. The abundant pine trees of the country largely provided raw products for the process. The cyclical nature of paper production also made large energy savings possible. The Kraft process was critical in making America a world leader in the industry.
So, the next time you take home a purchase that is attractively wrapped or packaged in a Kraft Paper item, tip your hat to Carl Dahl, who started the whole thing.